Have you pressed the pause button mid-career to be able to take care of your kids? Are you at a point where you are considering returning to the workforce, but are overwhelmed and unsure how best to accomplish that? You are not alone. So many women with valuable talent experience this and there's a company based here in Connecticut that is on a mission to help moms transition back to work by providing them with a wealth of tools for work-life success: Untapped Potential (UP). UP values connection and development by working with hiring business partners (small to large) to reinforce that a career is cumulative and should not be diminished by the years spent parenting.
Hiring stakeholders often hold this demographic in the "motherhood penalty" box. These moms are highly accomplished, college-educated, mid-career professionals ready to return to their professional caliber. Since 2015, UP has held hundreds of community and networking events to support and empower women who have taken a career break for caregiving. UP helps evolve both candidates and hiring businesses, creating dialogue around diversity and inclusion in the return-to-work journey, and opening up the topics of flexibility and values around parenting. As proof of concept, UP has delivered hard-to-reach talent to the marketplace via Flexreturn™ engagements with business partners and collaborators such as Aetna a CVS Health Company, AXA xl, CIGNA, HSB Munich Re, Max Analytical Technologies, Motorlease Corporation, Movia Robotics Inc, ReadyDock Inc, Smoothstack, Travelers, University of Hartford, Wearsafe Labs, YWCA and more. Businesses benefit from easy access to high caliber talent, low risk with the Flexreturn™ engagement model, and cost savings. To date, over 80 Flexreturn™ engagements have been initiated by UP.
"We are thrilled to bring UP's mission to candidates and business partners beyond Hartford, expanding to both Fairfield and New Haven Counties in 2021. After a complicated year amidst the pandemic, UP continues to offer a network of support (peers, industry mentors, and career coaches), virtual Speed Interview events, and valuable short courses developing in-demand market expertise. Through our unique mid-career Flexreturn™ internships, UP delivers the sorely needed practical 'stepping stone' for these talented and motivated women." ~ Untapped Potential's Founder, Candace Freedenberg
Here are just a few success stories from moms who have returned to work through UP:
"I engaged with UP to reinvigorate my professional credentials and met with hiring managers through UP's interview event. This was a true confidence builder. I launched with a cohort of talented women at a mission-driven tech start-up. The CEO gave me a meaningful role. It was an outstanding feeling to contribute professionally again after being away from corporate experiences for many years. Thank you, UP!" ~ Nicole K.
"Untapped Potential is an amazing company, dedicated to placing talented women back into the workforce after a prolonged absence caring for their families. UP went above and beyond to listen to my story and my goals as a mom and career woman as I considered options when relocating due to my husband's career. As a new mom to a toddler transitioning from a stay-at-home job back to the workplace, Untapped Potential was a terrific sounding board to weigh scenarios that genuinely considered my parenting goals and work-life balance." ~ Kelly V.
Ready to Learn More?
Visit UP at www.upotential.org for more information on future MentorMingle, SkillUP, Networking, MockInterviews, SpeedInterview Events and Flexreturn™ Internship Info Sessions.
Coming up on January 26th from 7:00-8:30pm: Re-ignite YOUR Professional Self!
After a record-setting 2020, start the new year out with a focus on YOU, professionally. What do you want out of your second-stage career? How can you craft the right mix of work and family? Those in industry (our Mentors) and potential Candidates alike will appreciate a new perspective! Be inspired by our speakers!!
Benefit from the solidarity of a supportive network and learn the steps to participate in real career experiences! UP's Flexreturn™ engagements offer the right stepping stone to connect and engage at your caliber when the time is right for you.
Join peers ready to craft their strategy. Confer with mentors ready to help! This event will focus on the mindset necessary to set your course so you shine at our signature Client/Candidate Speed Interview Event!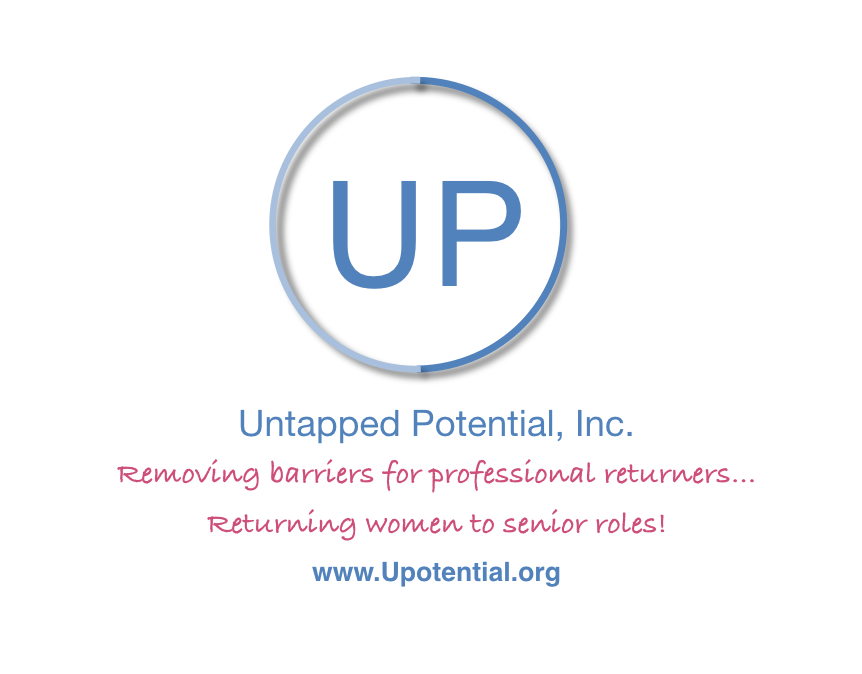 About Untapped Potential, Inc:
Founded in Hartford, CT by Candace Freedenberg in 2015, Untapped Potential Inc. is on a social mission to prepare women for their next career shift. We value their work as caregivers for our next generation and believe businesses are missing out on their value. By changing the way businesses find and keep talent, UP offers a stepping stone to re-enter the workforce at the candidate's caliber with the flexibility and control that they need. For local businesses, UP delivers hard-to-reach talent to the marketplace. As a CT Benefit Corp, UP impacts the wage gap, gender equity and works to overcome the statistical motherhood penalty.